Day 1 :
Keynote Forum
Orange Organic Pharma,India
Time : 9:00 am - 09:45 am

Biography:
Dr. Shridhar J Pandya has completed his PhD at the age of 28 years from JNU University-India and postdoctoral studies from Pune university in Pharmaceutics as a specialization. He is university top during post-graduation. He is the director and Research head of Orange Organic Pharma-India and having 12 years experience in pharma field. He has published more than 25 national and international papers in reputed journals and got number of DOAJ awards for same. He is inventor of more than 50 herbal formulas in various disease conditions. He is expertise in to design formulation in herbal dosage form.
Abstract:
Diabetes is wildly spreadable and metabolic disease, which cannot be easily managed with single line of treatment. As per WHO guideline 1 in 11 peoples are suffering from diabetes. Patient's satisfaction is major limitation with allopathic or insulin because it can't able to give symptomatic relief in diabetes as with poor compliance. Alternative therapies like herbal supplements, Ayurvedic products helpful to reduces blood sugar level and improve function of beta cell, hence function of beta cell and alpha cell can be utilize properly. It is also helpful to reduce or stop other medicines and insulin also.
Our Glucobeet Trademark of Orange Organic Pharma are available in herbal and dietary supplement tablet dosage form. It works with same function as above mention. Glucobeet is very beneficial to type-1 & type-2 Diabetic patients. It is doctor recommended product available in market since from last 4 years and yet not found any side effect. Glucobeet is manufactured with 100 % extract based ingredients. Ingredients & Excipients incorporate for granulation and tableting is also approved by FDCA & FSSAI guideline as per pharmacopoeial limits. Product manufactured under GMP certified company. Some insoluble extract like curcumins improve in such a innovative way that can give maximum bioavailability. Granulation for tableting without preservative is our invention. Other advantage is aqueous coating is employed to minimize cost and side effect of organic solvent and color. Statistical parameters are also used to design formula and it is approved for it's quality and stability.
Keynote Forum
Mexican healing master
Time : 9:45 am - 10:15 am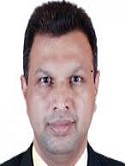 Biography:
Vivek Kamath founder of heal the world organization is a Reiki Master, Mexican Healer, Melchizedek Healer, Crystal Healer and Past Life Regression Therapy Expert. He has healed many diabetic patients (Type1, Type2, Type 3/1.5/LADA) without any medicines. He has also healed blood pressure (both high and low blood pressure), heart disease (removed the heart blockages), removed kidney stones, ovarian cysts, fibrosis of the breast, fatty liver, lungs disease, cured sinusitis, sever joint pain, lumbar L5 spinal disk pain, Sciatica pain, neck pain, constipation, rheumatoid arthritis, glaucoma,migraines,headaches,insomnia,stomach related problem, IBS, diabetic gum problems, skin problems( dry skin, eczema) and chronic nasal allergies, nasal blockages without any medicines. Some of the above treatments have been completed within a week to maximum 1 month duration
Abstract:
Statement of the Problem: Diabetes type1, type 2 and type 3 complications.
As most of us are aware Type 2 diabetes can be controlled and cured completely with the diet, workouts (yoga), effective stress management and other healing methods. However, Type 1 and Type 1.5/3/LADA diabetes healing or complete cure is a big challenge because of our body's immune system issue.
With type 1/1.5 diabetes, the body's immune system attacks part of its own pancreas. Scientists are not sure why. But our immune system mistakenly sees the insulin-producing cells in the pancreas as foreign, and destroys them. This attack is considered as "autoimmune" disease. These pancreatic cells – called "islets" are the ones that sense glucose in the blood and, in response, produce the necessary amount of insulin to normalize blood sugars.
How do we protect that these "Islets" and how can we ensure that these cells produce enough insulin hormones? Using Reiki Distant Healing and telepathy techniques I have reduced 2 patients glucose level. One was type1 case of a nine-year-old boy with high fasting glucose level (350 mg/dL) and a very high random glucose level (450 to 500 mg/dL) despite of taking high dosage insulin on daily basis for nearly 2 years it was not going down. With the reiki healing techniques, it has come down to normal level within a month or so. The same experiment repeated recently on another young gentleman 38 years old patient who was suffering from Type 1.5/3/LADA disease. His FB glucose level was around 350 to 400 mg/DL from the last 8 years despite of taking strong dose of insulin on daily basis; glucose level was not going down. Within a month after initialing Reiki healing treatment, his FB glucose level came down to 190 mg/DL. He is showing recovery from diabetes. The conclusion from our healing study are that these healing and cure works mainly on 1 ) Energy level of the healer 2) Belief in self for the patients 3) Belief in Reiki Channel and universal energy 4) Intention and thought process/brain wave frequency in alpha state matching between healer and patients. If all of these things are perfect, any disease can be healed. We have made an initial breakthrough in terms of reducing their glucose level. The above study has been followed on other healing such as Lumbar L5 Spine disk pain healing. It worked amazingly and patient has shown drastic improvement in their pain relief. 80% relief on pain has been felt. We are continuing with our research on this healing for various other chronic disease cure not only type1/3 diabetes. The recent healing on Type 2 Diabetes provides us information that even if the patient has any psychological problems, it could hamper the glucose level. A Type 2 Diabetic patient's PPBS was not going down from 290 mg/dl although his Fasting blood glucose was showing normal. We were not able to find the reason behind it. When we did the detailed consulting with the patient he was suffering from Insomnia problem. We immediately healed his insomnia problem and within few days his PPBS level came down to 110 mg/dl from 290 mg/dl. Based on this findings, it is very clear now, doctors need to find the stress factor in patient. It could be anxiety, phobia, insomnia, greed, morbid jealousy, vengeance, insecurity, depression or any chronic psychological diseases.
Diabetes Cure Using Herbal Remedies
We have also healed few patients using Herbal Remedies. These patients were having borderline diabetes and hence we were able to heal through the herbal remedies.
Conclusions
It is clear that Diabetes can be completely cured by Reiki and Mexican natural energy healing technique. TYPE1/TYP3/TYPE1.5/LADA these auto immune disease can only be healed through Reiki and Mexican Healings where as Diabetes border case, Pre diabetic, Gestational diabetes can be healed using herbal remedies. Diabetes which is insulin dependent or uncontrollable diabetes needs to be healed through Energy healing technique. If the diabetes is mainly related to Psychological issues such as Insomnia, Depression, Anxiety disorder, excessive stress, then we need to heal these psychological issues before healing diabetes. Many cases after healing these diseases, patient's glucose levels dropped down drastically.
Keynote Forum
S.V.S. Marwari Hospital, India
Time : -
Biography:
General Physician & Diabetes Specialist;30+ yrs of exp. Significant no. of patients incl. international patients. Principal investigator in many clinical trials. Presented many scientific papers in national, international forum. Attended many certified courses for Diabetes in India & abroad •In-charge Dept. of Diabetes Research & Education-S.V.S.M Hospital •Dist.Chairman Diabetes Awareness Programme, West Bengal; Lions Club International Dist. 322b(2001-05) •Hony. Physician To His Excellence Governor W.B. •Ph.D. Thesis Examiner & Ph.D. Committee Member-Calcutta University •Consultant case 2 case basis-ILS, Apollo, B.M.B Heart Research, Columbia Asia, DD Ten, Belle Vue •Ex. Lecturer-Institute Of Ocular Science(1985-95) •Ex.Deputy Physician & Clinical Tutor-J.B.Roy Medical College & Hospital(1989-99) •Incharge Dept of General, Ayurvedic, Herbal Medicines, Health Fitness & Panchkarma Research & Treatment Centre S.V.S Hospital •Ex.Prof. N.K.B.H.Medical College(1980-85) •Represented & participated in many International, National Congress Conferences •Representation & participation in IDF •Member of RSSDI,ADA,IDF,APICON,ESICON
Abstract:
Since the time of Charaka and Susruta several remedies had been tried in the treatment of Diabetes mellitus in Indian system of medicine. Mostly herbal and mineral in their character they were commonly used in combination as powder, paste, pills, and decoction etc. Much of our knowledge in this respect were unfortunately lost, with the decline of the influence of Hindu medicine. As such early treatise on Indian medicine contained references of several such remedies many of which are not of much proven value. Remedies from folklore and hear say evidences also had occupied a position in such a list of useful remedies and a complete evaluation of such indigenous remedies in Diabetes mellitus had never been undertaken
The world is facing a growing Diabetes epidemic with devastating consequences. WHO predicts an increase by 150% in number of diabetic patients by the year 2025. In India the present number of patients are 62 millions.Therapy for Diabetes has rested on three pillars-diet, exercise and medications. While diet and exercise well defined, pharmacological interventions are more open to customization and experimentation. This experimentation has been necessitate by the field realities of inadequate response, poor tolerance, drug interactions or other patients specific conditions that are encountered and has shed light on better dosing and combinations. We present here a overview in support of Ayurveda and Herbal therapy with oral hypoglycaemic agents or insulin in combinations for the management of Type2 Diabetes mellitus.